Hispanic Latinx Heritage Month
Main Content
HISPANIC/ LATINIX
HERITAGE MONTH 2022
A History of Serving Our Nation and Our Institution

Individuals with disabilities are welcomed.
Call 618-453-5738 to request accomodations.
618-453-2126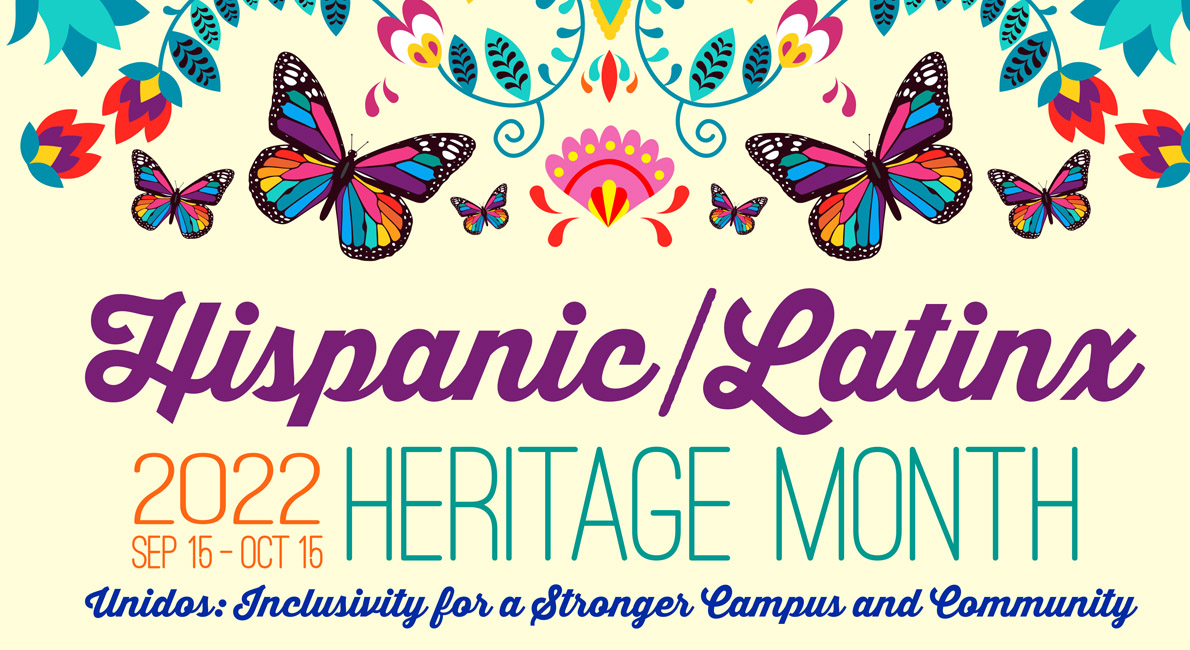 The summary of the schedule is below.
Click here to download the PDF.
FRI SEPT. 16
Fiestas Patrias Game Night: Celebrating
Latin America's Independence
4-6 pm • Student Services Building 150-160
Come and play "Latinidades' Bingo" and much more.
Sponsored by H/LRC and Latino Cultural
Association
MON SEPT. 19
Hispanic/Latinx Heritage Month Kick-Off
and Reception
4:30 - 6:30 pm • Student Center Auditorium
Keynote: Dr. Francesca Dennstedt. Dance
Program: Latin American Student Association
(LASA). Reception to follow in International
Lounge. Free to the public.
Sponsored by H/LRC
TUES SEPT. 20
SIU International Guitar Festival
The Music of Oswaldo "Vadico" Gogliano
10 am • Morris Library Guyon Auditorium
Free admission.
Sponsored by School of Music and Library Affairs
WED SEPT. 21
Salsa Making Workshop
4:30-6 pm • Student Services Building 150-170
Hybrid event. Live on Facebook:
facebook.com/SalukisUnidos
Ingredients will be provided for the in-person event.
Sponsored by H/LRC and Lambda Theta Alpha
Latin Sorority, Inc.

SIU International Guitar Festival
The Brazilian Edition: Franco Galvão
7:30 pm • Morris Library Guyon Auditorium
General Admission: $10, Students: $5
Sponsored by School of Music and Library Affairs
THURS SEPT. 22
SIU International Guitar Festival
The Brazilian Edition: Moacyr Teixeira Neto
7:30 pm • Old Baptist Foundation Recital Hall
General Admission: $10, Students: $5
Sponsored by School of Music and Library Affairs

Roundtable Latinx Stereotypes:
Confronting Controlling Images
4-5:30 pm • Student Services Building 170
Sponsored by H/LRC and Women Gender and
Sexuality Studies (WGSS)
FRI SEPT. 23
Hispanic/Latinx Educational Bingo and
Loteria (Mexican Bingo) Night!
4-5:30 pm • Student Services Building 150-160
All are welcomed!
Sponsored by H/LRC and Sigma Lambda Beta
Fraternity, Nu Alpha Chapter
SAT SEPT. 24
Familia Weekend Tailgate
11 am-1:30 pm • Saluki Row
H/L Student organizations Unidos as a Family with
our families!
Sponsored by H/LRC, HSC, LCA, MGC, and LASA
MON SEPT. 26
Understanding Hispanic/Latinx Students'
Issues and Characteristics and Best
Practices for Better Retention Outcomes
11 am-1 pm • Student Center Old Main Room
Faculty, staff and administrators are invited.
Sponsored by H/LRC

The First Gen's Guide to Corporate America
5:30-6:30 pm
Virtual: https://zoom.us/j/99724093660
Meeting ID: 997 2409 3660
Sponsored by College of Business and Analytics,
Office of Diversity and Inclusion and H/LRC

Movie Night (Hispanic/Latina/o/x Themed
Movie TBD)
6:30-8:30 pm • Faner Hall 1326
All are welcomed!
Sponsored by H/LRC and HSC
FRI SEPT. 30
Piñata Making Workshop
4-6 pm • Student Services Building 150-160
Hybrid event. Live on Facebook:
facebook.com/SalukisUnidos
Supplies will be provided for the in-person event.
Sponsored by H/LRC and Tau Chapter of Gamma
Phi Omega Sorority
FRI OCT. 7
Empowering and Nurturing Hispanic/
Latinx Students' Success Luncheon for
SIU H/L Men Students
11:30 am-1 pm • Student Center Cambria Room
Sponsored by H/LRC

Festival Latino
5-8 pm • Student Services Pavilion
SIU alum, Julio Barrenzuela known as the "Salsa
Ambassador" and the amazing "Son Monarcas"
from Chicago will liven the Student Services
Building Pavilion with music and dance! Free to
the public.
Sponsored by H/LRC and Lambda Theta Phi Latin
Fraternity, Inc. Delta Phi Chapter
MON OCT. 10
Saul Flores "The Walk of the Immigrants"
7 pm • Student Center Auditorium
The story of his journey, accompanied by a
series of photographs, that capture the essence
of the people, communities, and cultures he
encountered along the way. Free to the public.
Sponsored by H/LRC, Office of the Provost, School
of Communication Studies, SIU Library Affairs,
and HSC
THURS OCT. 13
Queer and Latinx Cinema "A Fantastic
Woman"
3 pm • Student Center Auditorium
Hosted by Cristina Castillo and Seth Williams. Free
to the public.
Sponsored by Office of Student Engagement,
Morris Library, VC for Research, School of
Communication Studies, Wil Clark and Brian
Rhodes, LGBTQ and H/LRC
FRI OCT. 14
Empowering and Nurturing Hispanic/
Latinx Students' Success Luncheon for
SIU H/L Women Students
11:30 am-1 pm • Student Center Cambria Room
Sponsored by H/LRC
SAT OCT. 15
Homecoming Parade: Unidos: Inclusivity
for a Stronger Campus and Community
9:30-11 am
Hispanic/Latinx student organizations will parade
together "Unidos/United."