LGBTQ Resource Center
Main Content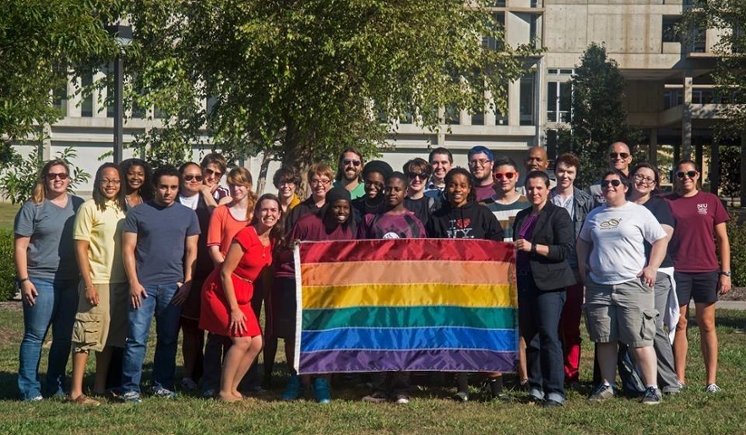 Mission Statement
The Lesbian, Gay, Bisexual, Trans*, Queer (LGBTQ) Resource Center, a unit of the Vice Chancellor for Diversity, Equity, and Inclusion, serves as a centrally located, safe campus space that provides educational outreach, referral information, and advocacy services, which will add to an inclusive and diverse environment for LGBTQ students, faculty, staff, families, friends, alumni, and the greater community of Southern Illinois.
The LGBTQ Resource Center provides:
What we do

Our work to enhance learning and teaching opportunities for LGBTQ folks and allies include classroom presentations, Safe Zone trainings, and maintenance of research listserves. The resource center has close connections with the Women, Gender and Sexuality Studies Department as well as a number of other academic departments. We also provide educational outreach to a variety of administrative offices, including the University Housing Department, Counseling Center, Wellness Center, Student Health Programs, Affirmative Action, Public Safety, and New Student Programs. In addition, we provide resources to academic classes addressing LGBTQ issues within their curriculum.
Support

The LGBTQ Resource Center serves as a safer space and is a place for LGBTQ-identified people and allies to congregate. The center provides immediate support and referral to students who are at risk or confronting personal issues related to their experiences and identities. We offer assistance for people seeking help with changing their legal name and write letters advising of name changes and pronoun usage for trans* and genderqueer students. Additionally, potential new faculty, staff, and continuing employees searching for community resources can access information through the center.
Campus Advocacy

LGBTQ individuals may be reluctant to speak up and speak out due to the social stigma of being LGBTQ. The resource center serves as a central office that speaks with one voice to advocate for LGBTQ individuals on the issues they face. The office also serves as an obvious symbol to the campus, the greater southern Illinois community, faculty, staff, students and prospective students that SIU is a welcoming, diverse campus dedicated to equal treatment of all people. The office advocates on policies, procedures, education, increased awareness, tolerance and diversity throughout the University, at all levels.
Community Engagement

Our location in southern Illinois makes community engagement a top priority for our work to succeed. Through collaborations with neighboring academic institutions as well as health care and service providers, we strive to improve the environment and provide resources for LGBTQ individuals and their allies. Through a partnership with the Jackson County Health Department, we provide materials and resources on HIV/AIDS and sexually transmitted infection prevention and treatment, as well as safer sex education. The office offers Safe Zone Trainings to community partners and assists in the training and launching of new Safe Zone programs throughout the surrounding areas. Our speakers bureau facilitates community presentations by expert presenters on a variety of LGBTQ identities and issues.